Happy New Year!
We hope yours was a Very Merry Christmas, and wish you A Joyous New Year!

Announcing The All New Barn Pros Website!
Congratulations to Jessica, Justin, Jeff, Steve and all the folks at Barn Pros on the Launch of their completely redesigned and redeveloped website!
This tremendous project has been in the works for over a year! Every aspect of the site has been updated in the redesign and extensive changes were made to the database and programming.

The BarnPros website is almost completely data driven with a broad array of structures and options, as well as a complete Ecommerce section taking orders largely for accessories and equipment such as barn doors and fixtures. The highly customized Ecommerce system directly supports and underlies the Structures, Models & Pricing as well as their presentation on the site.

Efinitytech worked closely with Jessica and Justin along with their design agency to produce this new and vibrant site. We are absolutely pleased with result, as are they!
In their words;
"FANTASTIC WORK! I know it's been a long haul…but it was all worth it!!! THANK YOU ALL for pushing hard and putting together a beautiful site! "
Justin Harries
General Manager
Barn Pros Inc.


VSM Newsletters: Tools, Features & Tips!
You already know that VSM's fully integrated Newsletters are the most effective, least expensive and easiest to use Marketing Tool at your disposal; but did you know that VSM's Newsletter System includes all of the following Tools & Features?
VSM Newsletter Tools & Features
1. Scheduler:
One Page Scheduler with control of: Page, Subject, Send Date and Recipient Groups
The ability to test send a single copy of your newsletter to anyone, immediately
The ability to Send a Newsletter Now! (Except for those with large subscriber bases)
Reverse chronological list of all Newsletters Sent. Also, the ability to delete items
Direct access to Review and Edit the Newsletter Page being scheduled
Control over the options for Group Membership and Opt Out choices for the subscriber
The ability to preview a previously sent newsletter page directly from the scheduler page
2. History:
A complete History of Newsletters Sent, identifying the Recipient Groups
An Individual Report of each Newsletter Send detailing: Date Sent, Total Recipients, Bad Email Addresses, Bounces, # Released, # of Unsubscribes, # of Opens, # of Clicks, and Repeats.
A snapshot of the Email Sent for that Newsletter
A complete Log of the results of each email sent, detailing exactly when the individual email was sent, the email address and the server result, as well as the individual, Open, Click or Unsubscribe
The ability to sort the newsletter log by who opened it, clicked on it, or failed to receive it
A complete and durable List of Email Opt Outs
An Excel Export option for the comprehensive detailed result of each Newsletter Send
3. Reports:
This Report enables you to compare Newsletter Performance Trends over time;
See "REPORTS Continued", below.
4. Newsletter Groups:
1. Create & Manage independent Recipient Groups for targeted communications
2. Import System which enables you to import many thousands of records at one time
3. Control over Visibility of the Group on your website
4. The ability to add a Group to your Ecommerce checkout
5. A snapshot of the number of Members of each Group
6. Export of the subscribers of Individual Groups
5. Subscribers:
1. Subscriber Management which enables you to search and edit any subscriber
2. Search for Subscribers not in a Group
3. Manually Add a subscriber
4. Delete Subscribers
5. Manage Group membership of Subscribers
6. The ability to control whether a member group is visible on your website
6. Diagnostic Tools:
Diagnostic Tool to Check for and Merge Duplicate Subscribers
Invalid Email format Diagnostic, enabling live editing
Duplicate Group Listing Removal
Diagnostic tool which enables you to clear out Bounced email addresses
7. Processors:
The Processor enables Efinitytech to setup and use alternate sending protocol for your email source. It is primarily a setup tool for Efinitytech to use in building out your Newsletter System
8. Preferences:
The Preferences identify and enable management of various attributes and pages used by your Site Newsletter. It is primarily a setup tool for Efinitytech to use in building out your Newsletter System
9. Email Servers:
The Email Servers utility is primarily a setup tool for the sending Emails for Efinitytech to use in building out your Newsletter System
10. Subscriber Import:
This Utility enables the import of a few or up to many thousands of Subscribers
The Import Utility automatically rejects previously unsubscribed email addresses
11. Additional Key Benefits of your VSM Newsletter
Each Newsletter is sent via an individual email to each recipient
Automatic elimination of duplicate emails when sending a Newsletter to multiple Groups
There is No incremental monthly cost for sending additional Newsletters! The monthly cost is strictly dependent upon the Total number of subscribers in your database.
Direct Integration with Ecommerce or Forms on your website. See more about this below.
A Unique Template representative of your Website Design is prepared for your Newsletter
Efinitytech not only trains and supports you on the use of your Newsletter; we also perform the import of your Initial Subscriber List when setting up your Newsletter
The same system which builds Webpages for your VSM Website builds Newsletter pages
REPORTS Continued:
One of our favorite tools is Item 3. Reports; the comparison of performance of Newsletters over time. Below is the performance of this Monthly Newsletter. Not only does it show the frequency, number of recipients, open rates, click through rates and send dates; the graphs provide clear trends and details of each Newsletter.

Note: the graph is in reverse chronological order, most recent to the left.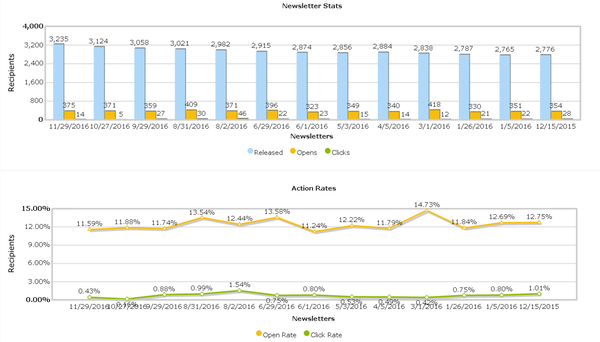 You can see the steady growth of subscribers over the past 13 months of about 38 per month, as well as a fairly steady open rate of between 11 and 15% along with a relatively low click rate typically below 1%.
Newsletters & Ecommerce:
Now; if Efinitytech were a high volume Retail Ecommerce business, we would certainly want to look at the daily sales line in conjunction with Newsletters sent. With that, we could infer the impact a newsletter offer on sales.
Below is an actual Daily Sales Line with Newsletters sent designated by an "N" adjacent to the date. This data is courtesy of of a longtime Ecommerce Client. The Green Line represents the current month's Daily Sales, while the light blue and orange represent previous years sales for comparison.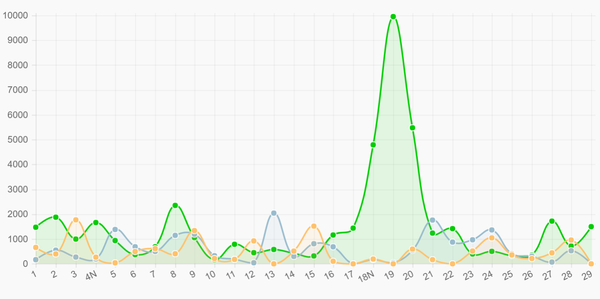 One can readily see the extraordinary sales impact of the Newsletter sent on the 18th, while that of the 4th had negligible impact. This provides insight on the comparative effectiveness of the these two newsletters on sales!

Newsletter SEO Tip: Create a Newsletter Archive on your Site!

Not only does your newsletter generate direct traffic and potential business; if your newsletter contains what is termed "Evergreen Content", (content that is durable over time); creating a Newsletter Archive is one method that you can employ to enhance the SEO value of your website as well as provide an easy reference for yourself and your site visitors.
We practice what we preach! You can view Efinitytech's Newsletter Archive here. We have found that Google indexes this page without any request within two or three days of posting the most recent Newsletter.

A Final Benefit of VSM Newsletters: Cost Savings!

VSM Newsletters are considerably less expensive than competitive offerings from companies such as Constant Contact. In fact, a recent comparison showed that our monthly charge is less than half that of the majority of competitors. We can offer this great value as the VSM Newsletter is just one of the suite of services we provide to our website clients.

Efinitytech's hourly Billing

Efinitytech's Hourly Rates have not changed materially in some 12 years. In order to remain competitive and to provide you with outstanding service, our current Hourly Billing Rates can be found Here.


Newsletter Success: By Brian Mead of Balancing Service
Balancing Service and Efinitytech prepared and sent their first Marketing Newsletter of 2016 in December.
Brian gave us good base content, including a great illustration of the value of their services to a New Cruise Ship and a calendar offer for their customers. With that, Efinitytech edited the copy, produced the Newsletter page and added photography. It was sent to every one of their customer contacts.
The first day, Brian received 9 requests for his calendar offer from some of his most important clients and gained an immediate order for a day's work from a customer whose most recent contract was several years ago.
Brian called to report this to us the morning the Newsletter was sent and told us;

"This really works! And I have the next 4 topics already drafted"
Contact us to see how Efinitytech's Custom Business Websites, Consulting Services and Newsletters can help your business!