Welcome Spring!
We are honored to count you among our valuable clients. Please let us know how we can serve you better.
Featured Website
Please join us in congratulating Identity Games on the launch of their completely transformed Website! We are pleased to be working with their design firm TWOPINE MEDIA all the way from the Netherlands! Yes; straight from Amsterdam, Holland to you via, Efinitytech.
VSM Content Management
Newsletter

Custom VSM
E-commerce
See more of our portfolio at: www.efinitytech.com
VSM Newsletters: Did you Know?
VSM Newsletter service is about 1/2 the Cost of Constant Contact, while providing a substantially similar service!
VSM Newsletter service monthly cost is based upon the total number of subscribers in your system. You are free to use the newsletter as often as you wish!
| | | |
| --- | --- | --- |
| Number of Subscribers | | Monthly Fee |
| 1 - 500 | | $5 |
| 500 - 2,000 | | $10 |
| 2,000 - 5,000 | | $20 |
| 5,000 - 10,000 | | $30 |
| Each Additional 5,000 | | $10 Incremental |
*We have clients with thirty thousand subscribers!
VSM Newsletter service and reporting continues to be enhanced. See below for integration of Newsletter information in Ecommerce Website Sales Data.
Did you know that Newsletter Reporting Information can be found right in your VSM Newsletter History Tab?
Newsletter Effectiveness
On March 25th and 29th, an Ecommerce client sent an offer via their VSM Newsletter. Within 24 hours the sales spikes were dramatic! See the results below; courtesy of our helpful client!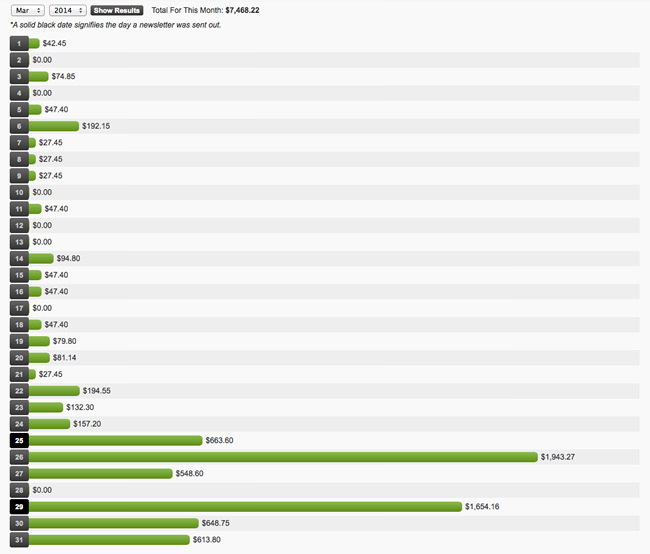 Responsive - Mobile Adaptive Design Enhancement & SEO
Is your site mobile ready? It may render well enough on today's very capable smartphones and tablets but... did you know that Google preferentially ranks websites with mobile design enhancements higher than those without? Makes sense when you think about it. If being found on searches on phones and tablets is important to you, then call or contact us at sales@efinitytech.com. We will be happy to quote upgrading your VSM Website with Responsive enhanced design. The SEO benefit, is just the beginning. Your visitors will have a better experience and your site will convert more mobile traffic.