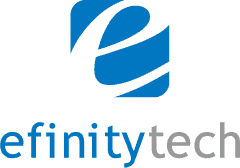 February 2017 Efinitytech News
Announcing the All New Copy Center SA Website!
Our sincere congratulations to Tony and Blake Mansfield on their new site. It is completely redesigned and redeveloped with new content. In addition, it features a behind the scenes Job Tracking & Management System which handles order status and reporting for their four locations! This software, directly integrated with their site, completely developed and supported by Efinitytech enables The Copy Center SA to assign, monitor and manage the status and delivery of their digital printing jobs.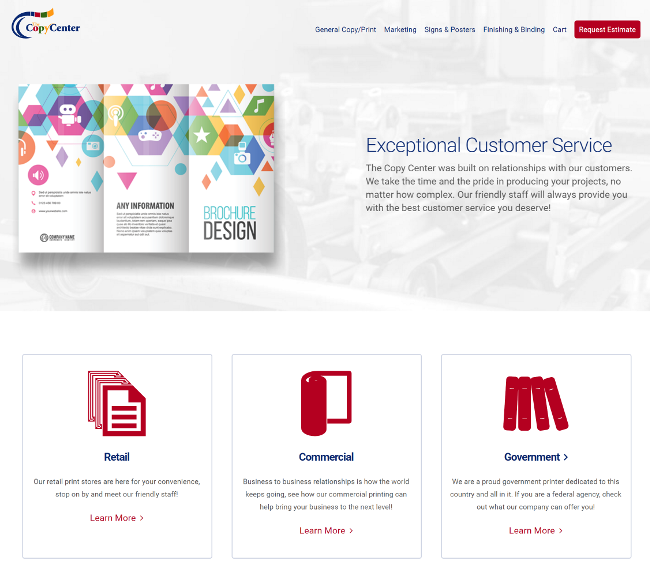 Custom Efinitytech Website Design&Custom Job Tracking & Management Software by Efinitytech
See more of our portfolio at:www.efinitytech.com
It is with definite nostalgia that we reflect on this project. Tony has been a client of ours since Blake was a youngster! Tony was our next door business neighbor and we fondly recall Blake running around his front office! Well over a decade ago, Tony relocated his business to San Antonio, (the SA, in his domain) to be close to family. Today, we are happy to work with Blake and Tony as one of our longest and as far as we know, our only multi-generational client!
Our long association with Tony and Blake enable us to endorse and recommend TheCopyCenterSA for your Digital Printing needs. They are happy to serve customers in the Northwest or anywhere in the country.
In Blake's words;
"Efinitytech brought our ideas to life! Mark and his team were able to take our concept and create a fully functional website that propels our online presence immensely. Our business has become more efficient, scalable, and profitable thanks to the Efinitytech team! The level of attention at this company is unlike any other; I highly recommend this company for all your technology needs."
Blake Mansfield
General Manager, The Copy Center San Antonio.
VSM Enhancements: 2017 Update
If you edited an informational page on your site recently, you probably noticed the change to a much larger format for the content, greatly improving the editing experience. That, is just the beginning!
This year we are undertaking a series of enhancements to VSM. An upcoming change which will be very evident, is the transformation of the current page content editing to direct, on page editing. This will simplify your experience and greatly improve the editing process, as you will be able to see your changes as you make them!
Stay tuned for more announcements!
Images Not Displaying in your Newsletter preview?
You are most likely aware that some Email Clients such as Outlook, do not display images unless the recipient marks you as a Safe Sender or clicks the Download Pictures link.
So; how do you entice them to download those images and view your Message? Since, what does show in the email preview are Text and Alt Tags; use them to improve the open rate of your Newsletter!
1. Ensure your Newsletter contains Compelling Text as well as Images to convey your message.
2. Use Alt Tags for the images to describe the important aspects. In VSM, edit your page, select the image, then go to the Image Properties, see below, and give your images a compelling Alt Text: Note the Alt Text is The Description Field in the image Properties dialog box.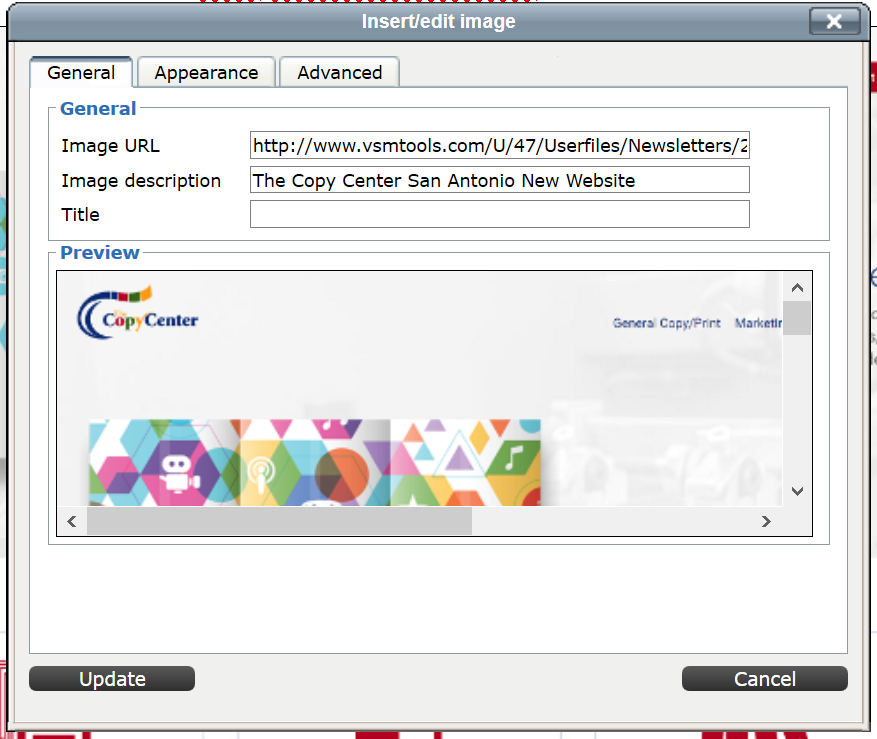 Are images hurting your SEO?
A slow page load materially penalizes your site rank, turns off many visitors, and causes many others to balk before the page finishes loading! By far and away the number one reason a site has loadtime issues is Images! Too many on a page and large file sizes are the primary problems.
The images on your site are arguably the most impactful aspect of your site. While Google's Algorithm cannot actually see your images, it does detect them and indexes the file name and the Alt Tag. In addition, the algorithm records the file size and the page load speed.
Just his past month; three of our clients, who shall remain nameless, suffered detrimental impact to their site's performances due to these very issues.
How do you know if your site has unnecessarily large file sizes?
Notice how the Large File slowly "paints in". This file is nearly 1 MB. It is approximately 10 times the size it needs to be! The Resized File loads very quickly. It is about 71K. Try right clicking on the images one at a time and open them each in a new tab. You can see the dramatic size difference. By sizing your images to fit their intended display space you can avoid unnecessarily large image file sizes, the slow page load and the loss of site rank and visitors!
In VSM, the image file size is displayed immediately to the right of the filename. In the Image/Docs Folders, the Image Files are listed by Name. A quick inspection of the file size will alert you to any very large images. Any image file near or above 1,000 KB, is almost certainly too big for normal use on a website.
Contact us via support@efinitytech.com for support!
Featured Business: Woodinville Florist!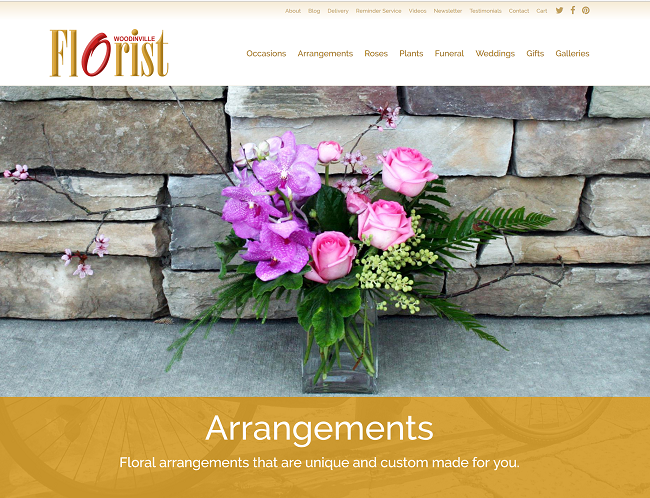 Oriana, the owner of Woodinville Florist has been a Web and SEO Client for many years. Her award winning arrangements are always welcome in our home and never fail to make a great impression.
Efinitytech's Organic Optimization has resulted in steady growth in high quality organic website traffic, which in turn has produced a 28% increase in year over year website sales. Recently we updated the website design to display more compellingly on today's larger monitors and enhanced the presentation with a more up to date look and feel.
It is no coincidence that we feature Woodinville Florist this February. We highly recommend their services for your Valentines flowers! Contact them via: Woodinville Florist.com.
---
Contact us to see how Efinitytech's Custom Business Websites and Consulting Services can help your business!

1129 W Main Street Suite #128
Monroe, WA 98272
360.805.8483
sales@efinitytech.com
---